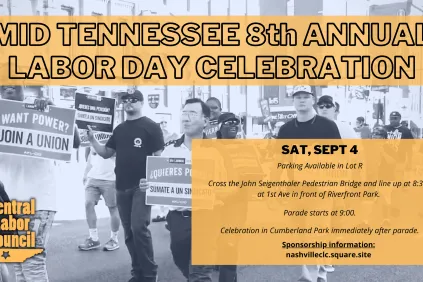 As the COVID-19 vaccine continues its successful rollout out and in-person gatherings with our Union family are beginning to feel safer and safer, we are so excited to announce that planning is underway for our 8TH ANNUAL LABOR DAY PARADE AND CELEBRATION, which will be held in person Saturday, September 4th! We are 
SO EXCITED
 to gather with all of our brothers and sisters to celebrate Labor Day 2021! In preparation, we have a few announcements.
Masks and social distancing are highly encouraged throughout our event, even for those who are vaccinated. Let's show our solidarity by keeping one another safe! We thank you all for your cooperation.
Parade lineup begins at 8:30 a.m. Please arrive on time! Our permits designate a tight time window, so make sure to arrive on time so you don't miss out! Parade will begin at 9:00 a.m. sharp.
Candidates, unions, and organizations: Please fill out our registration form!


Candidates

: this is our only way of knowing which of our public figures are in attendance so that we can recognize you in our program.


Unions/Organizations

: Please fill out this form so that we can have a headcount for food and determine the order of the line!


CLICK HERE TO FILL OUT THE REGISTRATION FORM!


We have received registration info from the following groups: IATSE 492, TN-AFL-CIO, IBEW, UA 572, CWA 3808, MNEA, LiUNA, NMA, AFM 257, Carpenters 223, MNPS, Candidate Wendy Longmire, Candidate Ana Escobar
If you are not listed, PLEASE FILL OUT THE REGISTRATION FORM!

Park in Nissan Stadium Lot R. FULL PARKING DIRECTIONS: Take Shelby Blvd/Korean Veterans Ave to S 2nd St. At the light, turn North toward Nissan Stadium. Take a left on Victory Ave, followed by a left onto S 1st Street. Look for Parking Lot R on your right.


After you park, take the pedestrian bridge to cross the river and line up for the parade. We will have volunteers in the staging area to direct you on where to line up. Floats can utilize Korean Vets Bridge to get to Parade Lineup on 1st Ave. Parade lineup is attached.

Celebration: After the parade ends at 3rd Ave, pedestrians will utilize the Pedestrian Bridge to return to Cumberland Park, the location of our celebration. Vehicles/floats can utilize Woodland St. Bridge to return and park in Parking Lot R for the duration of the event. Make sure to stick around for our program, festivities, music, activities, and food!
Please help us share this info in your Union networks or with anyone who may have questions about the day's logistics or details. And if you have any additional questions, don't hesitate to contact Sam Malick Petschulat at 615-426-6671 or sam@nashvilleclc.org.